HAPPY FRIDAY!! Coming home from a ROOT CANAL yesterday I needed some "love" and to my surprise my prayers were answered when I was contacted by
Laura Jane
letting me know the new blog makeover was ready!! A couple weeks ago I won a Laura Jane blog design giveaway on
Punk Rock Momma's blog
, she is super cool, go check her out!
SOOOO the new blog is GORGEOUS and I LOVE what you did Laura!! She has reasonable prices and great to work with!! GO check out her site and designs!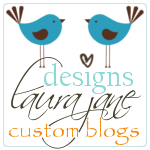 Laura has a great eye for what looks good and let me tell you, I just gave her the basics of what I liked and she came back with what I thought was "me". Also easy and fun to work with! I love you Laura and how you transformed my blog design into EXACTLY what I wanted it to be!! Thank you Thank you Thank you so much!!
Don't forget to check her out here!!
http://laurajanedesigns.blogspot.com/
----------------------------------------------------
Now how about some freebies to continue this wonderful day?
Better than Ears dog treats
(you must click the brown tab at top that says Quantities limited)
Nexxus Hair Care sample
Grandma Bowser's doggie biscuits
(scroll to bottom for sample)
Galaxy Granola bar
"Hot Mom Driving" car magnet
(Something fun for the moms)