Happy Friday! I've been attacked by the sick bug, everyone else in the house has had it and I went down Wednesday afternoon. I'm still feeling a little out of sorts but I wanted to jump on here and let you know I'M STILL HERE!! Its a good thing I can speak through my fingertips because there aren't many words coming out of my mouth, that anyone can hear anyway! I'm kicking myself now for never signing up for the Neilmed netipot thingie, anyone have one??
Since its Freebie Friday I wanted to give a shout to one of the blogs I'm diggin right now!
The Freebie Junkie
!! Just click the button below to stop over and check out her blog!! Angela, CEO of the freebie junkie, has some great giveaways and freebies, easy to enter and YES people its possible to win giveaways! I was one of the winners of her
Blogtastic Extravaganza Giveaway
last week out of 2700 entries!! Thanks for the great giveaways Angela!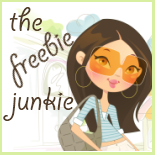 I hope you all have a great weekend! Here's to me getting better and nobody else getting sick, oh and for those of you on the East coast, I'm sending sunshine your way!
This week's freebies: